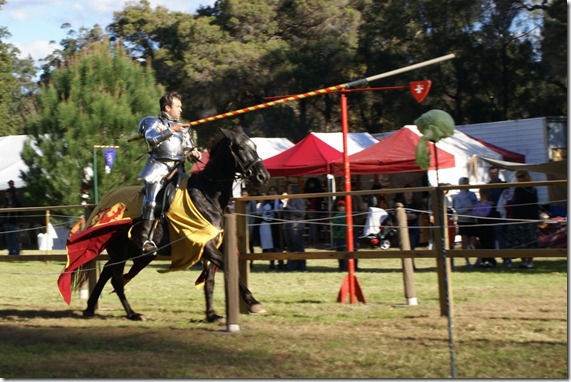 The winter sun shone bright on Saturday calling us to the exciting world of outside. Being bored with all the current diversions we dusted off our Tardis and headed back to the medieval era. Where we watched a jousting tournament. (the Knight pictured above had misplaced his helmet but he was just practicing in this picture so there was no head shattering blood spurting moments).
I wasn't actually telling the truth about the Tardis, sorry if any of you were suddenly delighted by the idea of popping over to ours to pop back in time. The only vehicle we own is a beaten up ex ambulance service Tarago called Freddo who is so old he occasionally stops in the middle of the road to compose himself. Senile or not Freddo had enough oomph left in him to get us to the medieval fair called Winterfest ( which is were we actually went on Saturday not back in time, again sorry about the lie)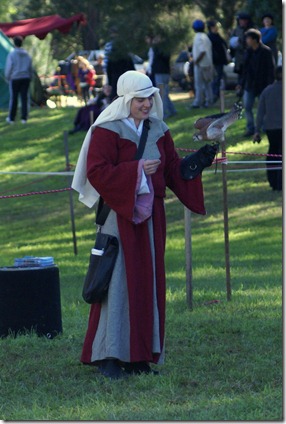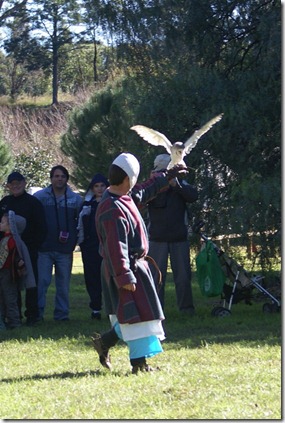 Faking it or not it felt like we were back in time and I love that the kids got to thrust their hands into history and experience it in all its sweat smelling glory. Nothing like hands on learning. The above two photos are from a birds of prey display (well Duh you say) where very sharp beaked and long clawry birds were sent swooping over our heads. The last bird they brought out was a massive eagle named Sabrina  which caused an eruption of giggles amongst our brood as our not very eagle like bubby is named Sabrina too.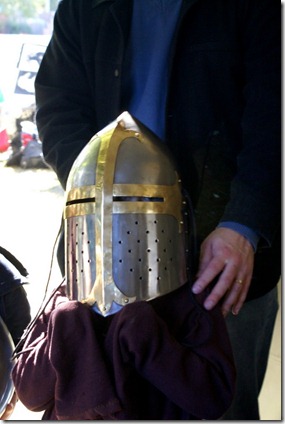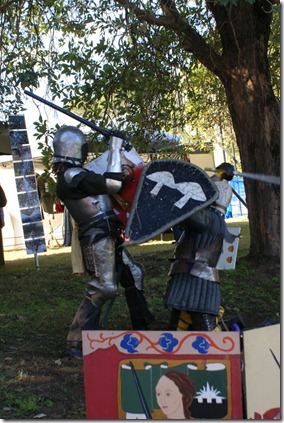 The outer edge of the field was encircled with tents containing medieval clad experts eager to impart their knowledge. Eli is under the helmet above. The helmet is a replica used for jousting which is a serious sport, they're not acting they really are riding at each other with long pointy sticks in various tournaments with the hope of winning prises. So that helmet had already competed in the morning joust, like I said sweaty glory.
We spent ages watching various displays or ancient weaponry and hearing about the many medicinal uses of fresh urine but the children's pick of the day was knight training.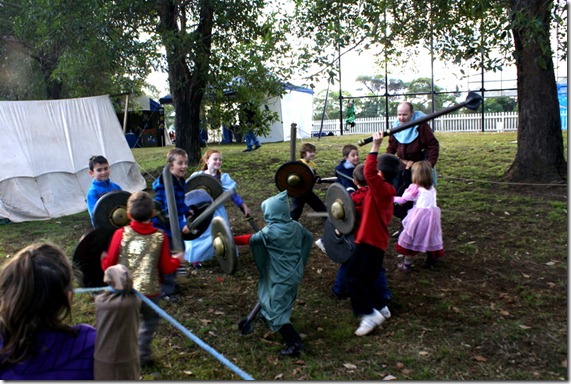 Creepy Uncle Graham took the kids though a series of skills training with cast foam weapons and shields.  This event is for kids over 8 however after our three wore them down with puppy dog eyes they agreed to take all the little ones who were game as the last battle of the day. The poor guy who was used to working with mostly 10 and 11's had to re adjust his tactics to handle his Hobbit army as he called them.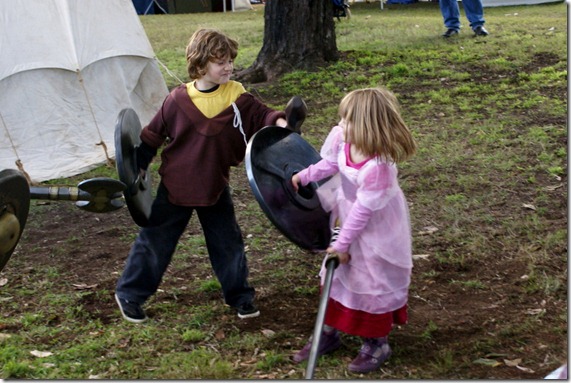 Class started with a great battle between two sides Lilly and Eli really got into it. In fact Lilly was a whirling furry of pink battle lace for the whole thing.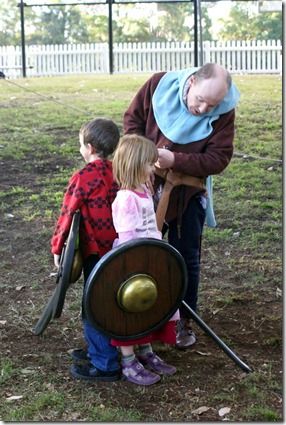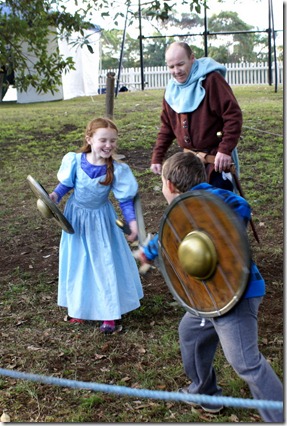 Then they were paired up for one on one fighting. The first photo is Lilly being picked on for not responding in the negative to the question "you're not going to kiss him now are you?" and poor Lani is brim full of embarrassed laughter after being told to use her womanly charms to distract him. Both the girls tied, Lilly because they both whacked each other so many times the battle was an unjudgeable blur and Lani's because neither of them managed to get a hit in at all.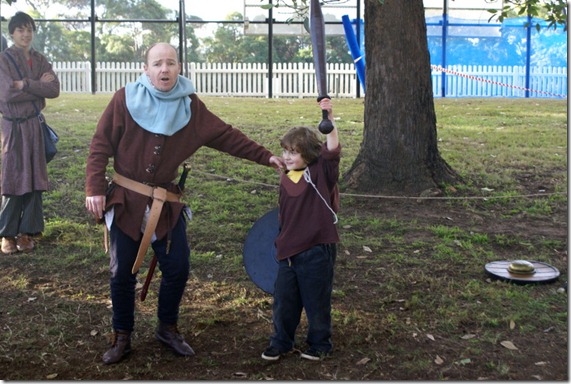 Eli won his battle.
Creepy Uncle Graham had the rare ability to not only appeal to the kids but all the parents watching as well. I haven't laughed so hard in a long time.