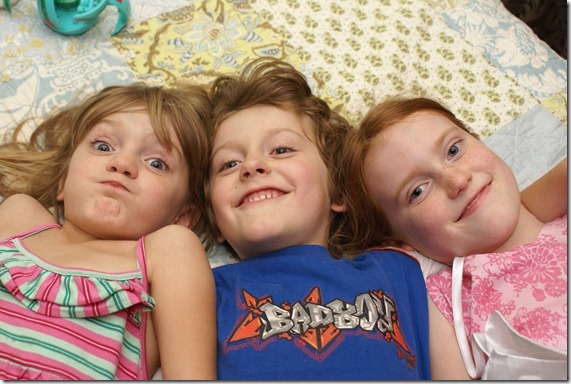 Every year for five days I have three consecutive numbers. This year for the short bit of time between Lillian and Alanah's birthday I have a Six year old a Seven year old and an Eight year old. We always take a photo of them which they love looking back on but is always a mammoth task because of the boy in the middle. Funny thing is he loves looking at the photo's later just has stage fright during the taking of them I guess. Anyhooo theses are the best two we got after about an hour of trying and 108 photos. Don't worry I wasn't making them sit still and pose thorough all of that in their memories the hour when a bit like this:
Mummy got the camera out and tried to take a picture, Eli freaked so we just played a game of Hide and Go Pop your Head Out and Squeal then we ran around the house laughing then we all jumped on Mummy's bed. Oh yeah and Mummy took photos.
Happy Consecutive Number Day Kiddies!!!!