I tried to take a Christmas morning photo of all of the kids, but Eli doesn't do photos and Lilly doesn't do standing still.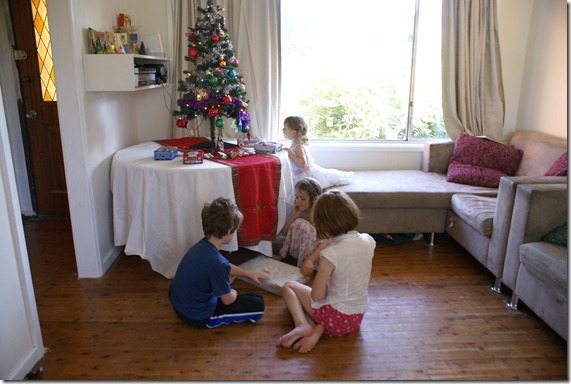 We didn't start opening gifts this year until quite late as Lani and Eli didn't wake up. We had gone to our church's family service the night before, then had a big discussion on the way home because Lani was cross because she felt some of the adults were trying to get her to believe in Santa when she has never wanted to do that and feels its a lie. Eli also was cranky because he is constantly paranoid that people are making fun of him or trying to deceive him so Christmas is tough. I decided to read the story of St Nicolas to them and discuss the history of how the jolly fat man came about.
We ended with prayer thanking God for the generosity of people who help the poor and asked him to use the joy and excitement we would feel in the morning to remind us of the greater joy and excitement we will feel when Jesus comes again.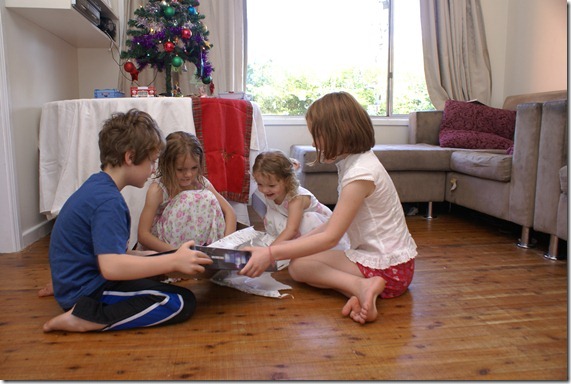 Much excitement over the Doctor Who board game that they got as a family present.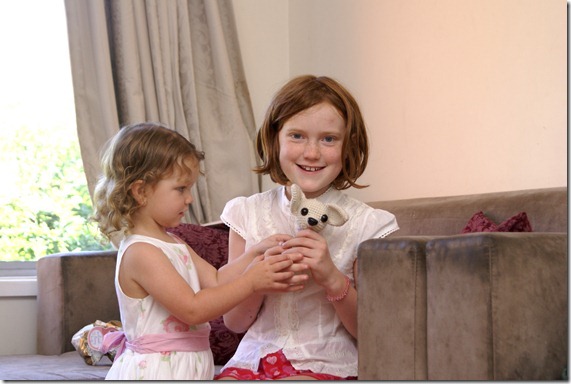 I had ago at Amigurumi this year and made each kid a little animal, Lani's was a white Chihuahua as she is very keen to have a real one but Glenn still says no.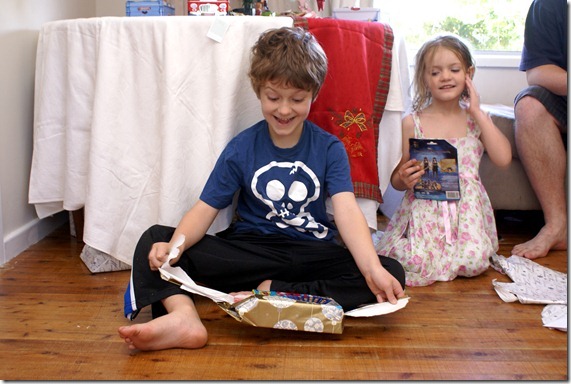 We gave each of them a board game as well which caused a great deal more excitement than I expected.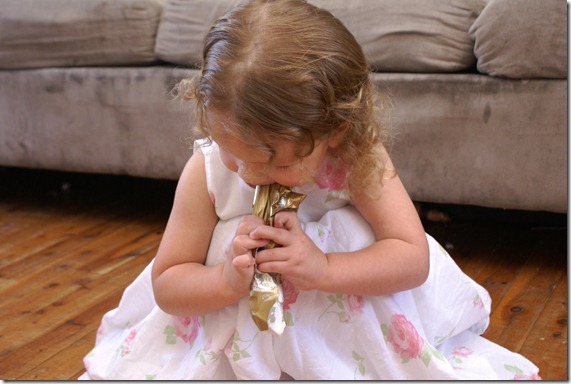 Sabi really got into the present opening this year, even if she did find it a bit hard at times.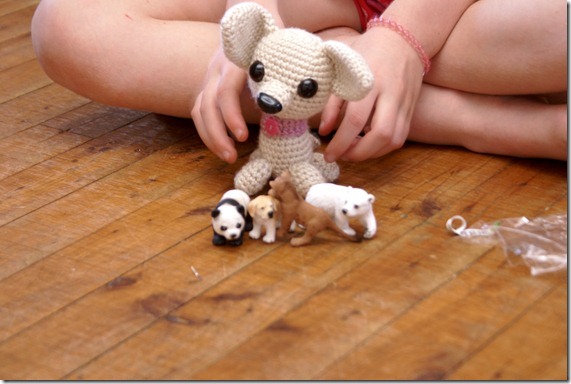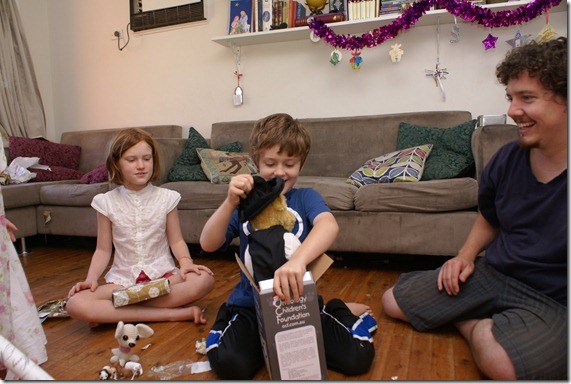 We also got each of the children an Oncology Children's Foundation bear which they loved because each of them is addicted to soft toys but also because they knew that they were helping kids with cancer.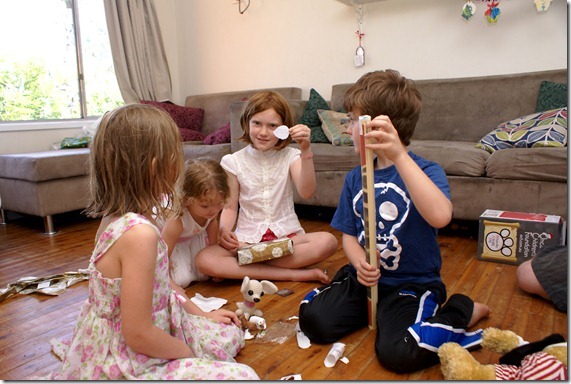 Lani was confused by one of her labels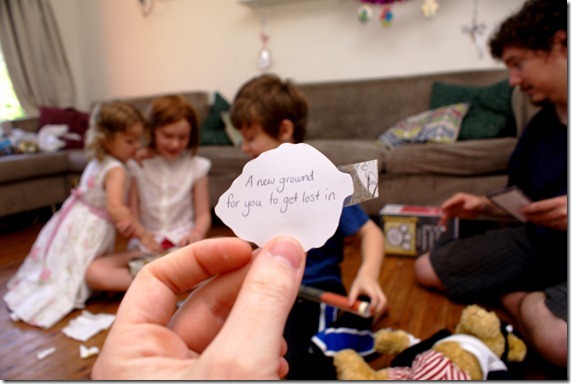 So was I when I reread what I had written, I must have been tired. I'm pretty sure I was going for a new world for you to get lost in as the present was a book.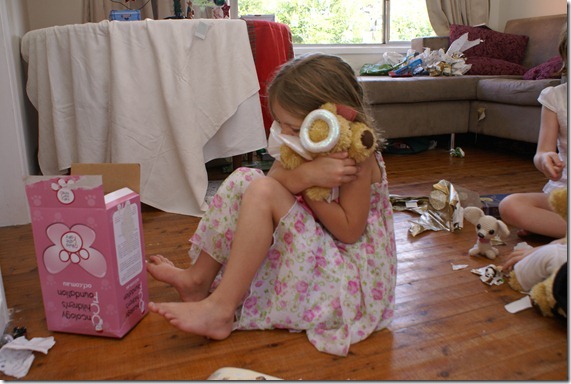 Lillian with her fairy OCF bear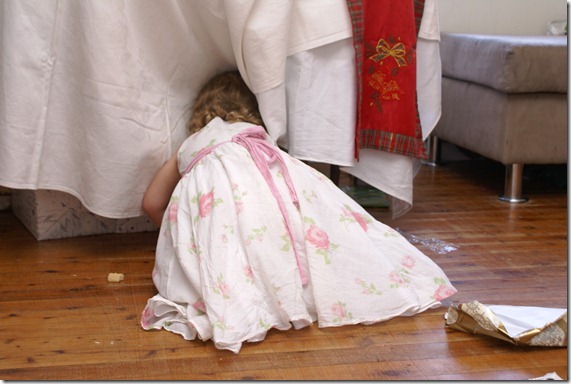 Sabi off on a treasure hunt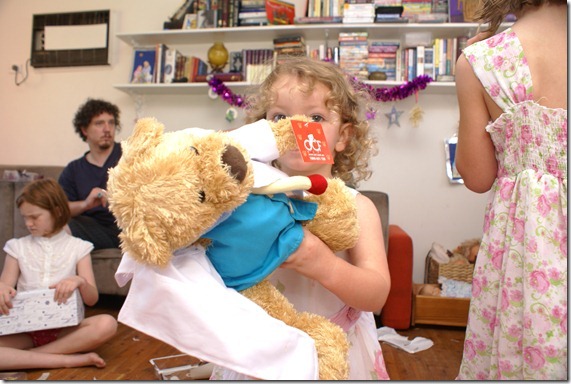 Sabrina got a doctor bear, she calls him Doctor Who Bear, because she loves doctors a little too much at times.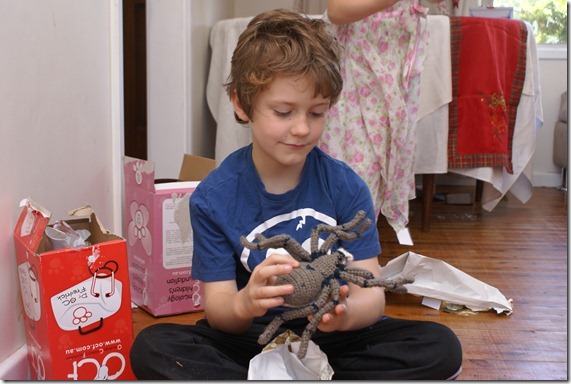 The Spider I crocheted for Eli, he really likes it I know because he told me and he doesn't lie about things like that, he's very blunt. He does look a little sad in the photo though as the pressure of not knowing if he was going to like what he was unwrapping was getting to him.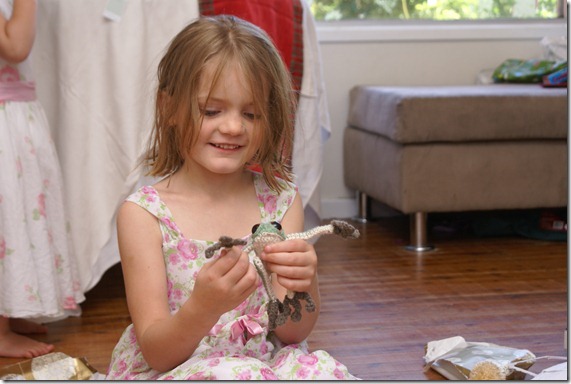 I made Lilly a little green frog because her favourite colour is green and she is just so frog like.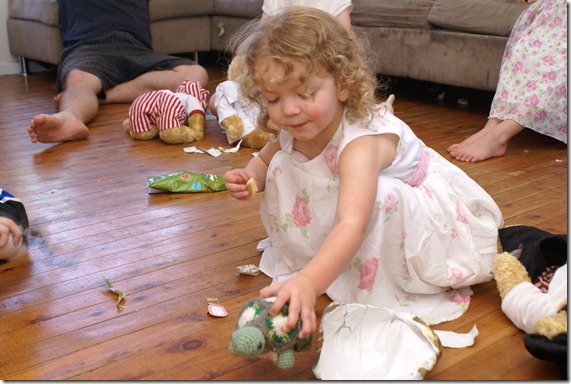 Sabrina got a turtle whose shell can come off, he plays very nicely with her.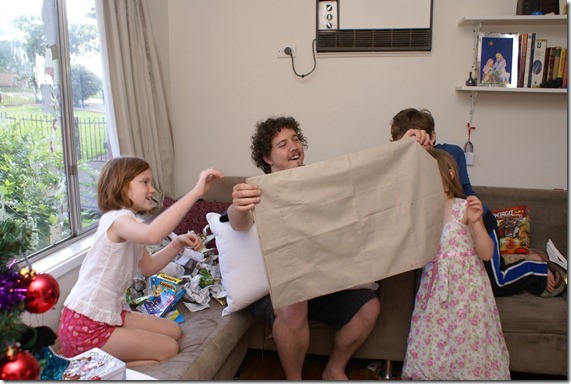 Glenn got a pillow case which he loved…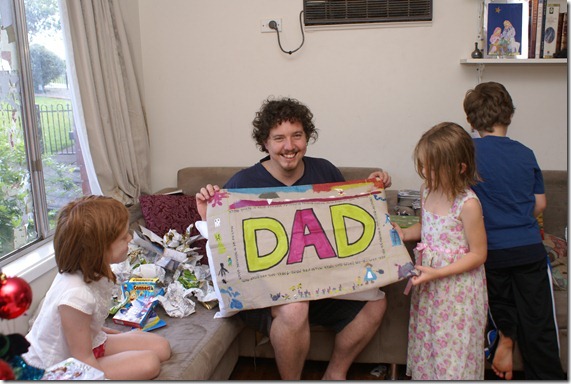 Because all the kids had painted it for him. I has characters from Doctor Who, Mine Craft and the Tiffany Terry Pratchett books.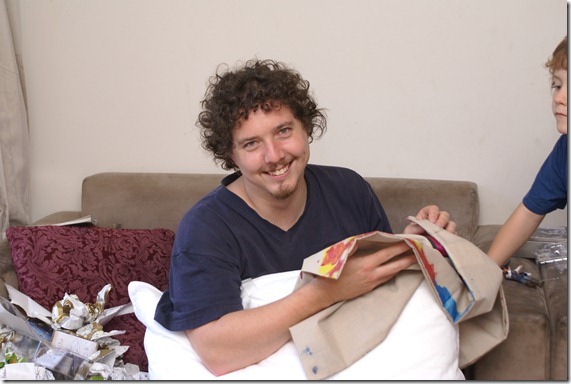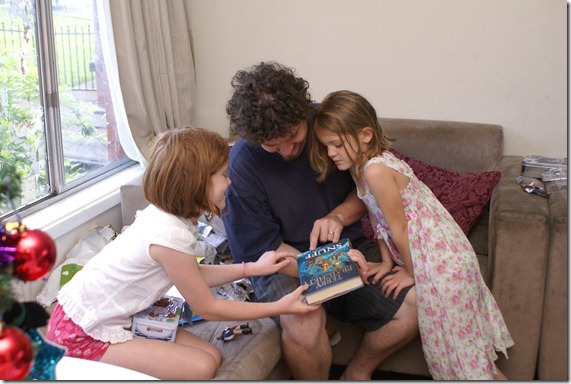 He also got a Pratchett book which Lani as thrilled to give him because they now share favourite authors.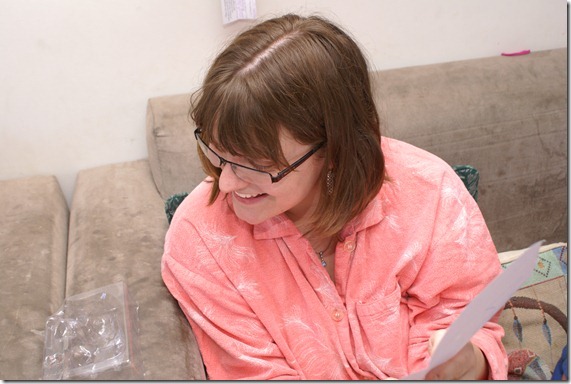 Me in my daggy flannel PJ's (This has been a very cold summer for Australia) reading my beautiful hand made Christmas cards from the kids.
We then went to church then to Mum and Dads for a family lunch.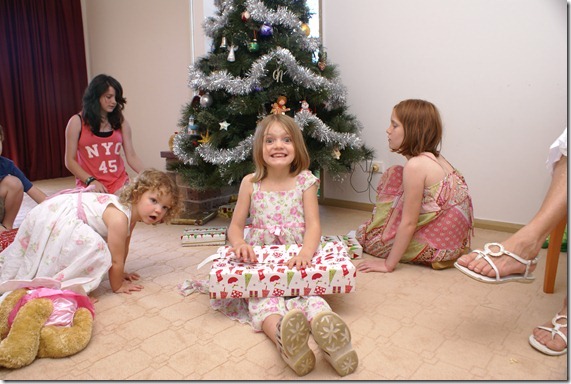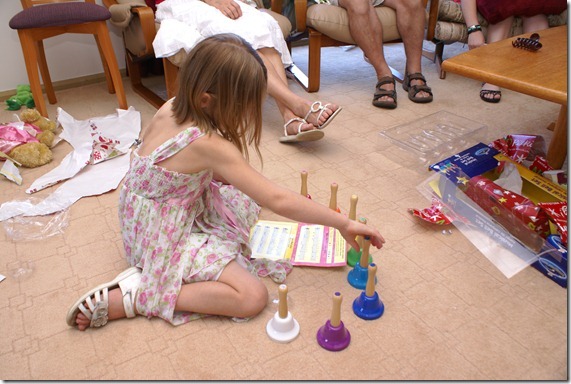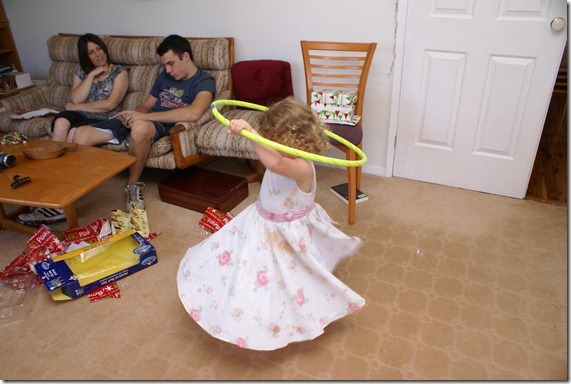 Sabi was so funny with her new Hula Hoop, she thought she needed to spin to get tit to work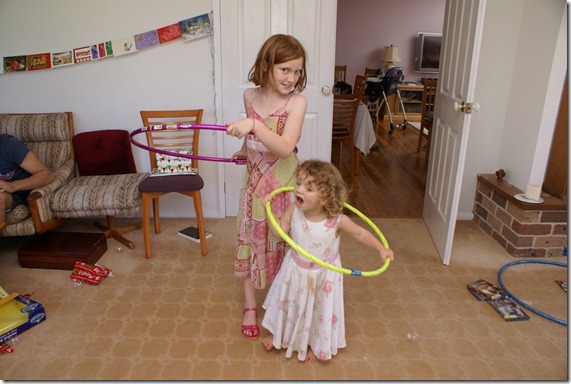 Then she kept trying to lick it (She is always licking things) but she hadn't let go off the sides so every time she stepped forward the hoop moved further out of her reach.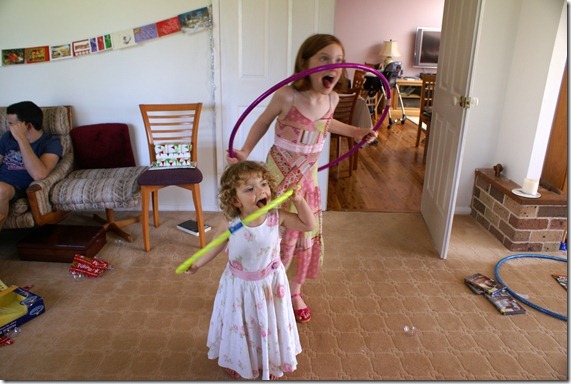 Lani thought she was hilarious.